Today I'm going to cover 100 tips for beginner photographers, and to be honest, if you've been doing it for a while you could use this as a refresher for things that you might have forgotten.
Table of Contents
100 Photography Tips
Photography is such a fun hobby and if you stick to it you'll be learning more and more as the years go by. I've learned things I've had those aha moments and sometimes skills will fall by the wayside when I have been using them for a while.
100 Photography Tips for Beginners
so your skills will be evolving all of the time, but today I thought I'd go over 100 of those photography tips for beginners that could help you as a photographer, and if I've missed anything let me know in the comments below.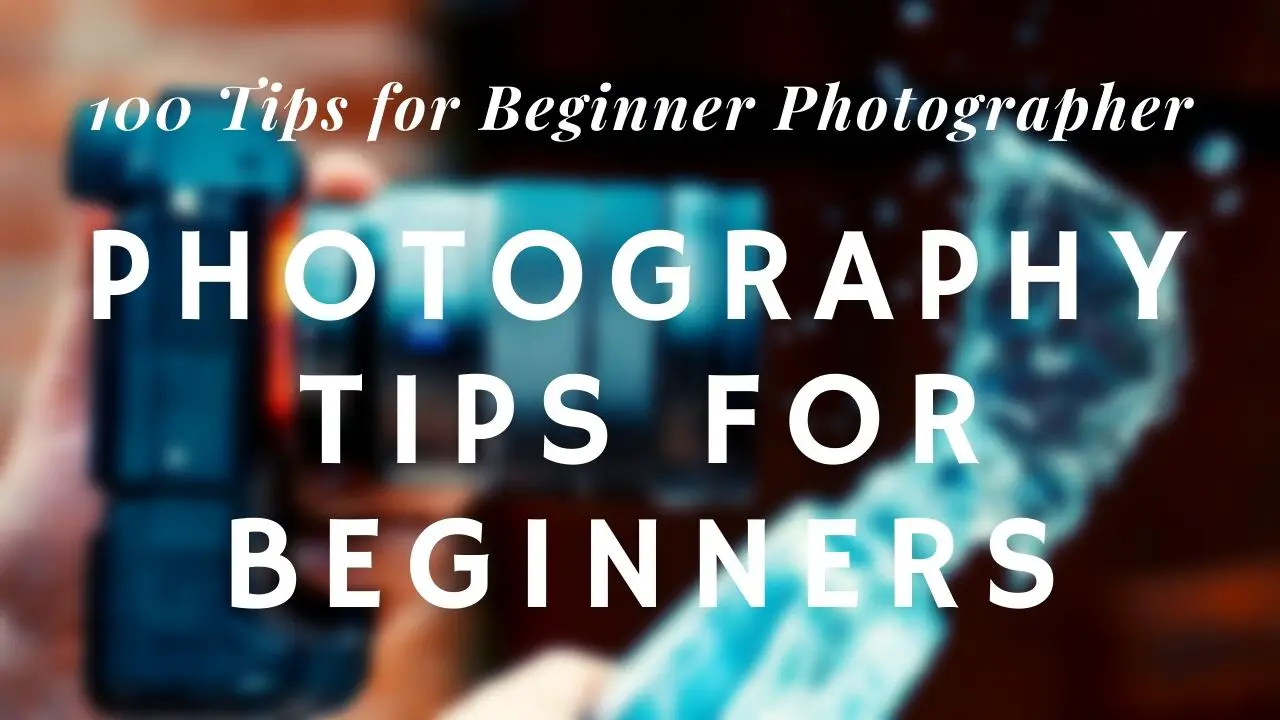 Use auto as a safety net
The photography tip for beginners is to use auto mode as a safety net. you might have something that's going on in front of you or you might get confused with your settings. if this is the case know that you can switch it back to that green box and you'll be able to just take the photo of what's happening in front of you and then you can go back to the settings or go back to what you were learning in the first place. but know that you have that auto as a safety net.
Start Shooting in RAW
the next tip is to start shooting in raw. raw is such a good way of getting a lot more data than you would with jpegs. jpegs are good but raw files will give you a lot more data and you'll be able to recover a lot more if you get your settings out a little bit.
Use a wide aperture for shooting portraits
when you're shooting portraits use a wide aperture so that's getting the f-number as low as possible. what this will do is it'll tend to get the background out of focus and it'll separate your portrait from that background.
Use a longer focal length for shooting portraits
while we're on the subject of portraits you want to use a longer focal length as well. so if you're on a crop sensor camera and you're using the kit lens which is normally 18 to 55 shots at 55 millimeters or if you've got a full-frame camera and you're using a 24 to 70 use the 70-millimeter end. this will help get that background out of focus again.
Learn to use the aperture priority mode when you want to control the aperture
Now when you are shooting those portraits and you want to learn about aperture. aperture priority is the way to go this gives you control over the aperture and as long as you've got your iso in iso auto that's the only thing that you need to control then you can get that f-number as low as possible the aperture as wide as possible and kick that background out of focus.
Use a Shutter Priority to Control Shutter Speed
if your subject is moving fast, say you're shooting sports or anything like that you'll want to control that shutter and this is where shutter priority comes in. this gives you control over the shutter and then the camera controls everything else as long as you have that iso in auto.
Bring your Subject Away from the Background
now going back to those blurry background shots you want to move your subject away from the background to get that background more blurry you might only have a kit lens which might be f4 to f 5.6 but the more distance between your subject and the background the more likely that background is to be blurry.
Move Closer to your Subject
and this leads me to the next photography tip for beginners which is if you still can't get that background out of focus then move closer to your subject the closer you are to the subject and the further away your subject is from the background the more likely that background is to be blurry now that's pretty much all of the things I'm going to talk about with that blurry background so if you're sick of those blurry background shots that's all the tips that I'm going to have for blurry background shots.
Learn to use your flash in manual flash mode
the next tip is to learn to use the flash in manual mode what you'll find is if you take a photo with a flash and it's in the automatic modes which are the TTL or the ETTL modes you'll find is it may take a good shot but it may take a bad shot and when you're troubleshooting it you can't work out or you might not be able to work out why it's done that if you're in manual mode it's a lot easier to troubleshoot and also you'll learn a lot more about flash photography and about how it works.
Don't be afraid of High ISO
the next photography tip for beginners is don't be afraid to raise your iso modern cameras and especially modern cameras in the last five years have really good iso ranges and you'll be surprised about how far you can push it before you get noise in your image.
Noise is better than Bad Blurry Shots
and this brings me to the next point again noise is better than blur so if you raise your iso you'll get more sensitivity in the sensor now I know there's more to it than that but we're just talking layman's terms now so the iso raises the sensitivity of the sensor and then it means you can shoot with a faster shutter speed so you're less likely to get blurring your shots and you're more likely to get a usable shot.
Learn How to use Exposure Compensation
the next photography tip for beginners is to learn how to use exposure compensation when you are shooting in that aperture priority or shutter priority control what you'll find is the exposure compensation will allow you to nudge that exposure one way or the another so if the camera hasn't quite got it right you can use exposure compensation to darken your shot a bit or brighten it up a little bit.
Set the Camera to The Best Aperture for the Lens
now unless you want a really shallow depth of focus shot get your camera to its preferable aperture it's normally around about f 8 but can range between f 5.6 and f 11. I shoot a lot of portraits for corporate companies and I normally shoot them between f 5.6 and f 8.

they do come out really sharp if you have it at the widest aperture and if you have something like the Tamron lenses that have an aperture of f 2.8 or maybe a prime that goes down to f 1.8 or f 1.4 sometimes when you're at those really wide apertures you'll get the iron focus but the end of the nose will be out of focus and the ear will be out of focus as well I much prefer to shoot at f 5.6 to f 8 where the whole of the face is in focus.
Learn the Rule of Thirds
next, learn the rule of thirds this is by far one of the best things that you can learn to sort of develop the compositional techniques you do need to know the rule to know when to use it and when to break it.
Ignore people who say the rule of thirds is rubbish
this leads me on to the next tip and that is to ignore people who say the rule of thirds is rubbish they have probably moved on from being a beginner and they've ditched that they've gone on to more advanced techniques but learning the rule of thirds is one of the principal things that you need to know to really work on your compositions and get more compelling photographs.
Focus on the Eyes
the next photography tip for beginners is to focus on the eyes this is why there's been such a big push recently from the camera companies to get great eye autofocus and it's well worth it you could shoot in manual and I remember years ago shooting on film where I had to manual focus on the eyes and it was really hard work with eye autofocus it's fantastic that at just the press of a button it can focus on the eye and a lot of the times it will get it to spot on.
Check the Edges before you Click
when you do take a photograph you do need to patrol the edges of that photograph if something creeps into your shot and you're not aware of it it can sometimes ruin the photo completely now you can photoshop it out but it's better to know what's in your frame and just do a little look around that frame before you take the photograph.
Invest in a Photography Planning Apps
now you've got your camera and you've spent a lot of money on that camera it's worth investing a little bit of money in an app like photo pills the photographers of femoris or planet pro one of these will give you so much information about the location that you're going to be shooting at I use photo pills all the time when I'm going out and shooting it'll tell me where the sun is it'll tell me where the light is going to be coming from and it'll tell me where the sun's going to be if I'm just scouting a location it's really good and it's well worth it I think it's around about 9.99 at the moment.
Learn to use the Histogram Properly
when you are using your camera you really need to learn to use the histogram this is an essential tool to help you get a better balance shot sometimes the screen on the back of your camera might be turned down in brightness or it might be really bright and this can kind of trick your eye a little bit and you might then underexpose if it's too bright or overexpose if it's too dark so make sure you know how to read a histogram and make sure you have it on so you know that you're getting your photograph spot on.
Check Your Background
when you take a photograph it's quite easy to miss what's going on in the background if you've got a very compelling subject so you need to keep an eye on your background and what's in it it's amazing how easily you can miss something that is so distracting.
Go Back Through Your Photos
From time to time you need to look through your photos and see if there's been any improvement try and learn what you're doing wrong and what you need to work on I do this from time to time and I look through my photographs and then I can work out what I do need to work on there may be skills that I've forgotten or there may be things that I'm overlooking that I need to focus more on and looking back through my work really helps me do this.
Invest in a Good Photo Editing Program
Invest in a good photo editing program it might be adobe or capture or dark table I'm not talking about money but I'm talking about time as well it's really good to invest time into learning and editing programs properly whether you get lessons in it you invest in a course or anything like that once you get that editing program to learn as much as you can about it so you know it inside out.
Find a Mentor
it's worth finding a mentor this could be someone online or in-person but having someone that is on the next level or is much better than you having a look at your photos and giving you that critical feedback is really important to help push you and your photography.
Learn How to Hold your Camera Properly
This photography tip for beginners is a simple one but it's often overlooked sometimes I find myself forgetting this one but it's learning how to hold your camera properly this is not so important when there's a lot of light about but when you're shooting into the evening or if you're on a really long lens you really need to hold that camera properly and that is getting those elbows in holding up to your face so the camera is nice and solid and nice and static.
Learn all about white balance
Now I've already mentioned shooting in raw but once you do shoot in raw know that white balance is not that important in taking the photo but more important in the editing stage now if you shoot jpegs you do need to get your white balance right so it's worth learning about white balance.
Go to a low pressured place and learn the manual mode
this next tip is more of an exercise and it's about switching your camera to manual and heading out to a park or somewhere nearby where you live where there is no pressure to get the shot and learn about that manual mode.
Set your camera up so it is easy to use
now this leads me to the next photography tips for beginners which are learning how to set your camera up properly mainly where to access and change your principal settings and that's aperture shutter speed and iso.
You don't need the most expensive gears
now while we're on the subject of gear don't think that you have to buy the best gear straight away photography is a hobby that will last for years and you'll build up a decent set of gear over time I started off with a camera and a kit lens and I had that and nothing else for quite a while I did buy a few lenses probably a couple of years after that but the camera and the kit lens did a great job and it taught me a lot about photography.
Have a small setup you can take with you
this next photography tip for beginners again is about gear and it's having a camera setup that you can take everywhere with you the best camera is the one that you have with you because if it's sad at home you're not going to take a photograph with it so make sure you've got a small compact setup that you can carry with you this is one of the reasons why I've got the a6600 and the kit lens I can easily chuck that over my shoulder it's really small and it doesn't get in the way and I can get much better photographs than I could with my camera phone.
Plan some photographs you would like to take
Now the difference between someone who takes snapshots and someone who takes photographs is planning so plan some photographs you want to take this is a case of finding a location may be online or on some maps and then kind of planning what you're going to do what you're going to photograph when you're going to take it and how you're going to take it.
Go and try to get shots that you have planned
now all of that time will be wasted if you don't actually go out and do the shots that you've planned so the next photography tip for beginners is to go and do those shots that you have planned and that you've spent all of that time finding those locations to shoot you may have to go a few times but if you do you'll end up with some amazing photographs instead of snapshots.
Work Around your Subject
when photographing a subject be a person a place or an object work around that subject and shoot it from different angles different focal lengths and different heights it's amazing what you can get and how different you can make your subject look.
Take Photographs Regularly
As well as shooting your subject from lots of different angles you need to take photographs regularly I'm talking like every week if you don't do this you might learn some skills but then if you don't pick your camera up for a few months you'll probably lose those skills so make sure you take photographs regularly.
Do a sunrise landscape shoot
now if you're thinking about getting into landscape photography do a sunrise landscape shoot this will either help you fall in love with landscape photography or make you realize you're not really a morning person and maybe landscape photography is not for you now with your three principal settings that's aperture shutter speed and iso they all interact with each other.
Learn about the Exposure Triangle
Learning about the exposure triangle helps you to understand this a little bit better if you get good exposure and you change one of your settings you need to compensate with one of the other two settings and this is what the exposure triangle will teach you.
Go and Photograph at Sunset
If you're not a morning person and you still want to get into landscape photography you'll need to start photographing sunsets or around sunset time where you live you'll be amazed at how different a scene will look from in the middle of the day compared to at sunset or sunrise so if you're not a morning person photograph sunset.
Learn to Photoshop People out of your frame
now, this leads me to the next photography tip for beginners which is if you're not a morning person and you do photograph sunsets learn how to photoshop people out of your photographs you'll be surprised at how many people will be at a location at sunset compared to sunrise where you'll probably get the scene to yourself.
Photograph Everything
the next photography tip for beginners is to photograph everything so if you're going to a party take your camera if you're going for a hike in a really nice landscape again take your camera and if you're going to visit friends or family take your camera again if you photograph as many things and as many different subjects as possible you'll start to learn intuitively how to use your camera and then you'll learn what works in what certain setting the more photographs you take the better you'll get with that camera.
Photograph an Event
If this isn't possible find some events near you and go and photograph those events be it a running event a car race some bikers going down a downhill trail there are a lot of vents around you well as long as there's not a global pandemic going on that is so events are great because you basically have the subject there ready and waiting for you to photograph you've just got to get the right settings and get yourself in the right location to shoot that event.
Find Different Locations to shoot the same object
now the next tip is more to do with landscapes and it's about finding different locations to shoot the same subject say for instance you're shooting a mountain it's a very prominent mountain there may be one location that everyone photographs from what I want you to do is go for a hike around that mountain as long as it's safe and find different angles to shoot that same subject from if you do this through either scouting that location or planning and going and doing that shot what you'll find is you'll get a very unique photo that is basically yours.
Shoot the same Object at different times of the day
as well as changing locations you want to go there at different times of the day you'll be amazed at how different one subject can look when the light is coming from different angles.
Look for shapes to include in your frame
when you do find a good composition try and see if you can find some shapes in that composition and try and incorporate them into your photograph it's amazing when you get certain shapes like circles triangles diagonals into your shots and it makes the shot a lot more compelling.
Find Leading Lines to draw the viewer's eye
as well as shapes look for leading lines to draw the viewer into your shot if you've got a path a road or a river or maybe some ripples in the sand these can really draw the viewer's eye into the shot and towards your subject.
Make the sun Burst
the next tip is to get the sun into your frame and make it burst a tip here is to shoot with high aperture numbers let's say f11 to f18 what you'll find is different lenses will give different starbursts but if you get your settings right with those smaller apertures with those high f numbers the sun will start to burst and any pinpoint lights will burst as well you'll get those lines coming out of them and it can really make your photographs pop.
Start to look for foreground elements
when you are exploring your subject when taking landscape photographs look for a good foreground element it might not work to start with but if you do look for them it will start to train your mind to think in the right way and when you do find one that really links in and really works well in your photograph it'll really make your photograph stand out.
Emulate, Then Create
now the next photography tip for beginners is to emulate then create if you see a photo you like of a place you're visiting or a place that is nearby to where you live try to recreate that photograph first of all so that's where you emulate but then see if you can find a better photograph of that same subject or see what other photographs around in that location you'll learn a lot by emulating others but then you'll learn so much and you'll become your own photographer when you do start to get your own photographs.
Try AstroPhotography
the next tip is to try astrophotography I have a lot of tutorials on astrophotography but it's one of those things that if you get into and you actually get to a really dark location with a sky full of stars it's quite inspiring and it kind of makes you realize that the universe is absolutely massive I could sit underneath the stars and I have sat underneath the stars all night.
AstroPhotography will make you lose a lot of sleep
the next tip is to realize it takes a few days to recover from a full night of astrophotography. when you have driven to the location you're awake all night and then you drive back home the next day it's amazing how much that can take it out of you and how long it takes to recover.
Look for something to give scale to your photo
if you're photographing a big landscape try to find something that gives it scale whether it's a person in the shot a building a boat or a plane just put something in the frame to show how big it is and how grand it looks that one thing if it's small in the frame will make it look even grander.
Remember to look around
when you do get to a location and you're photographing a scene you might be surprised at what you see behind you so make sure you look around and see what's about because as that sky develops and if you get one of those really nice skies where the sunlight catches the bottom of the clouds you might have an even better scene that's right behind you and you might miss it if you don't look around.
Backup your photos as soon as possible
once you've taken your photographs back them up as soon as you can this might not be for a while but as soon as you get home and as soon as you have access to your computer and a hard drive back them up.
Format your SD Cards as soon as you back them up
and once you've backed up your sd cards clear them as soon as you can so you format them in-camera I've had so many times where I've copied the sd cards and I've forgotten which ones I've copied but I haven't formatted them and I end up with a case full of sd cards that are full and I don't know which ones are formatted and which ones are not it's a really bad habit to get into so make sure as soon as you back up your photos you format your sd cards so they're ready for the next time you go out shooting.
Delete all of the rubbish
The next photography tip for beginners is to delete the rubbish photos and I mean the ones that are really badly out of focus or they've got horrible motion blur you just want to get rid of those because they'll just take up space I've got a whole draw of hard drives and I need to go through them and I know there's a lot of photos on them that I'm going to delete I haven't done that for ages and I really need to so get into the habit of deleting those rubbish photos and I mean getting them completely off your hard drive.
Spend more money on memory cards
When you buy memory cards you want to spend more money than you think the speed of the card will really slow you down and it'll slow you down at the worst possible moment there'll be something amazing happening in front of you and then your camera will be clearing the buffer and the speed at which it clears the buffer does depend on the speed of card that you've bought so spend as much as you can on that sd card.
Buy More than one Memory Card
While we're on the subject of sd cards buy more than one memory card they can and do fail and you'll kick yourself if you don't have a backup there's nothing worse than going out to a location having a card corrupt and then not having a backup card to use so you don't have anything to save any of the photos too.
Mirrorless Camera Helps you learn faster
Mirrorless cameras have developed so much over the last 10 years and they will really help you learn at a much quicker rate than with a DSLR or with a film camera by this I mean that if you're looking through the viewfinder or looking at the screen on the back of the camera it'll show you what the photograph is before you've taken it so you can look at it and you can work out how that photograph looks before taking it and this is such a good learning tool and it'll help you learn photography a lot quicker than if you're shooting with film or you're shooting on a DSLR with a DSLR you're looking through the lens and you're kind of looking with the dynamic range of your eye so you'll see a lot more detail through an optical viewfinder of a DSLR whereas with a mirrorless camera that's a readout of the sensor so it will give the dynamic range of that sensor.
Mirrorless Cameras can make you lazy
now on the flip side of these mirrorless cameras will make you a lazy photographer and that's because of what I've just said you'll be able to look at the back of the camera and work out whether it's a good shot or not and this really does make you lazy I started back in the 90s on film and the learning process was really slow I then transferred across to DSLRs but I still had a lot of those skills I learned back in the 90s and now I have some of those skills that I learned on DSLRs but now shooting with mirrorless cameras a lot of those skills have kind of gone by the wayside I don't need them anymore and I'm not developing them anymore so it is making me a bit of a lazy photographer.
Turn off the built-in flash
A lot of entry-level cameras will have a built-in flash if you do have this turn it off completely there's nothing that will make you look more like an amateur than if that flash pops up, especially if you're taking a photograph of a massive landscape.
Read the manual
now every camera comes with a manual and it's well worth reading that manual it may surprise you as how much your camera can actually do even the entry-level cameras have so many functions nowadays and if you don't utilize all of them or you don't know about them you won't know which ones you can use to help you get better photographs you won't know which ones that you don't really need at all so read the manual and learn all about your camera.
Get Critical Feedback
the next photography tip for beginners is to try and get some critical feedback now by this I don't mean your mum saying she loves your photographs or the numerous gushing comments on Facebook or Instagram this is a professional looking at your photographs from a professional's point of view.
Don't take the critical feedback personally
however, when you do get that critical feedback don't take it personally they're trying to help you become a better photographer, and as long as it is critical feedback you can learn from what they're saying by looking at your photograph from another person's point of view.
Share your photos online to boost your ego!
now if you have got some critical feedback recently and your ego does feel a little bit bruised what you want to do is share your photos online all of those gushing comments will probably make you feel a little bit better again.
Spread out the times when you share your photos
now when you do share your photos online don't share them across multiple Facebook groups the same people will probably be in those groups and the last thing they'll want to see is five of the same picture in five different groups they'll normally pop up on the feed at the same time now if you're adamant about doing this just share them on different days now I know you need to promote yourself online as a photographer but spread it out and do it logically people can really see through this and even though you're being genuine and sharing your work people might not see it that way.
Shoot at the eye level of your subject
the next tip is to shoot at the eye level of your subject so if you're photographing kids get down to their eye level if you're photographing dogs get down to their level if you're photographing say snakes in the grass or anything like that gets to their level.
Learn about the Shutter / Focal Length Rule
the next photography tip for beginners is to learn about the shutter focal length rule when shooting handheld and then see how much you can break this rule by this is basically where you take your focal length and you match that number to your shutter speed so let's say you're shooting with a 50-millimeter lens you keep it at 1 50th of a second this is with full-frame cameras so you need to work the conversion if you are on crop sensor cameras but if you are doing this see how far you can drop that shutter speed by if you hold the camera properly you should be able to drop it lower and also if you've got good ibis that's in-body image stabilization you should be able to drop it a bit more but it's good to know how slow you can take your shutter speed for a given focal length then you'll know when you can shoot handheld and when you might have to stabilize the camera in another way.
Know when to use a Tripod
now this brings me on to the next tip and it's knowing when to use a tripod. tripods are great because you don't have to start bumping up your iso you don't have to start compromising with other things the tripod will keep your camera perfectly steady you can keep that iso low and get a really nice clean crisp image I've got some of my favorite shots by using a tripod at night or when the light is dropping a lot.
Carry Less Gear
now when it comes to gear you want to try and carry less of it when you've got a bag full of stuff it's an absolute nightmare and if you do that for years you'll end up with a bad back so try and carry less gear.
Shoot with just one lens
now if you have more than one lens just try and take one lens with you on one day it's amazing how free you'll feel not having a bag full of camera kits I try and do this with different lenses on different days just to see how i feel about those lenses and also you'll learn a lot about shooting with that one focal range when you have that one lens on your camera and you won't have the choice of any others.
Scout the location
This next photography tip relates to planning your photographs but if you have a shot in mind scout that location to see if it's any good you can then use the app photo pills or a planning app like that to see where the light will be coming from and it'll help in that planning stage by scouting that location.
Go out in bad weather
now sometimes the weather can be absolutely awful and the last thing you want to do is go out and take photographs but this is really the time that you really should go out it's amazing how different locations can look in bad weather even if you have to buy a jacket for your camera to stop it from getting wet.
Aim for the Golden Hour
now I've already talked about shooting at sunrise and sunset and that's because of the golden hour the light in this time can be absolutely fantastic and you can get some really nice shots and it can make your job as a photographer a lot easier so if you do go out make sure you try and go out in the golden hour just to see how different they'll look compared to the middle of the day.
Break all of the Rules
now in photography, there are different types of rules to help you and guide you along the way but you do need to know that you can break all of the rules when you want to but you do need to know them first, especially the rule of thirds.
Take your time
Take your time learning photography and learn to enjoy the process of learning I look at other people's work sometimes and I think I'm a rubbish photographer and then I look at my photos from years ago and realize how far I've come in taking time to learn photography and taking years to process this art you'll really come into your own and you'll really develop that photography and develop your photography skills.
Down get yourself down by looking at other work
now this next tip links into the last one and it's not to get yourself down by looking at all of the great work that's already out there, especially with the likes of Instagram and photography sites like that there are some amazing work there and it's quite easy to let yourself feel down and kind of look at your photographs and think they're rubbish when you do look at those bits of work but try not to get yourself down by looking at them too much.
Work out how others have taken their photos
Again this leads to the next tip and that's to look at the amazing work online and try and figure out how they took it so instead of feeling down about all that amazing work tries and work out how they took it to work out when they took it and work out the location they took it then you can emulate their work and then create your own bits of work may be at that location or maybe at another similar location but then you'll make it your own.
Learn about Light by watching tv
now one unlikely place you can learn about photography is by watching tv and watching tv-series and films it's amazing how much effort they put into the lighting in every one of their scenes I sometimes annoy my wife by telling her exactly how a certain scene in a favorite show was created or I sometimes point out the lighting faults in that show and then she can't help but spot them but this is a great exercise to do so when you are watching an interview or you're watching a drama try and see how they've lit certain scenes I really enjoy doing that and it does teach me so much about lighting.
Tell a story with a group of photographs
Now the next photography tip for beginners is to tell a story with a group of photographs. sometimes you'll go to a place or you'll be at an event you'll take a load of photographs and then you'll just dump them all online it won't really tell a story but if you can narrow it down to 20 to 30 photographs at most and tell a story say if you're an event you'll get some shots of people getting ready you'll get some shots of the start you'll get some shots of the people competing then maybe crossing the finish line you'll have a story arc and if you narrow this down to 20 shots it'll make your photographs a lot more compelling.
Try to tell the story with fewer photos
now this links into this next tip and that's trying to reduce the number of photos you need to tell the story you'll find that some photographers will get one photo that tells the story of that whole scene and then other photographers might have to take a few more it does all depend on the subject and it does all depend on the story you want to tell but try and tell that story in as few photos as possible.
Play with shutter speed to create motion
now as you get to know your camera you want to start playing with shutter speed to create motion you'll find as you drop the shutter speeds by increments when you move the camera you'll start to create a bit of blur.
Learn to pan with slower shutter speeds
now if your subject is in motion you can learn to pan with the motion of your subject and if you drop that shutter speed you can then start getting those speed blurs in your shots.
Work out how you got your best shots
so the next tip is to learn to pan with the motion of your subject if you get lucky with a great shot but you don't have a clue how you got it to go back over the settings that you took and what you might have done to get that photograph in doing this you'll learn a lot from it then you'll be able to emulate that and start getting those shots purposefully instead of fluking them.
Shoot the same subject at different focal lengths
if you shoot with a zoom lens which you probably might do if you're a beginner because that kit lens is a zoom lens try shooting the same subject at different focal lengths say wide from near and far and then telephoto from near and far and then mix up the height you shoot from as well again you're getting that same subject from different perspectives different focal lengths so it's amazing what you can actually do with the zoom lens.
Add layers to build depth
now we live in a 3d space and try to record it on a 2d plane so you need to add depth by layering your photographs this is done by adding a foreground element or maybe adding a background element or getting that background out of focus by adding more and more planes you'll add more and more depth to your photographs.
Try breaking the rule of thirds for a day
as I've already mentioned the rule of thirds is a great tool to use to kind of layout your photograph but if you try to break that rule for a day or maybe a week what you'll find is you'll think about it more often and it'll become more of a subconscious thought as to whether you follow that rule or break that rule.
Use burst mode for fast-moving subjects
now when you're photographing quick-moving subjects use burst mode you'll find that as that subject goes past you might try and get that fleeting moment and if you just click one photograph it's almost impossible to get whereas if you've got it in burst mode, especially with these newer cameras that have really high burst modes you're more than likely to get the moment that you want.
Shoot Verticals as well as horizontal photos
now when photographing a subject it's quite easy just to shoot it all in landscape or all in the portrait mode so make sure you get the same subject in both portrait and landscape so that's horizontal and vertical then you'll find out what works better when your camera is in that vertical position and then what works better when the camera is in that flat position.
F8 and be there
now if your subject is unpredictable shoot in aperture priority with iso auto and at f 8. there was a famous photographer called Arthur ouija Felix and his quote was f 8 and b there now what he meant by that at f 8 you're more than likely to get your subject in focus and capture that moment and that's what we're talking about and that's what photography is about a lot of the time is capturing that moment.
Shutter priority for fast-moving subjects
now if your subject moves really fast shoot in shutter priority this will give you control over how fast that shutter is and how you freeze that fast motion if you want more blurriness in your shot you drop the shutter speed whereas if you want to phrase that motion you raise the shutter speed but in shutter priority, this gives you control over the shutter.
Photograph something different
now there are so many different genres in photography and if you stick to one genre try shooting something you haven't photographed before photographing something in a completely different genre can really bring more tools and bring more skills back to what you normally photograph as they say a change is as good as a break so you'll still be learning camera skills and photography skills but doing something completely different and you never know you might find a different genre that you like and then you add to your repertoire.
Fill the Frame
this next photography tip for beginners is a quick one and it's to fill the frame so if your shots are looking boring and the people or whatever you're photographing in the frame is small get closer to it or zoom in and get it filling that frame.
Get closer to the details
This next photography tip for beginners links to that last one and it's getting closer to the details if you do get closer to your subject and you fill the frame with your subject you'll be able to show the details the texture and the really intricate bits to your subject.
Study the masters
next study the masters of art you'll learn a lot about composition and lighting from ancient works of art it can be photography it can be renaissance paintings or anything like that it's amazing how good some of the masters are at capturing light and capturing an amazing composition.
Use your lens hood properly
the next tip is another pet peeve of mine and that's to turn the lens hood around if you've got it on your lens you might as well use it because then it doesn't get in the way and it actually does the job that it's designed for there's nothing worse than seeing a person who has a really expensive camera and the lens hood is on backward it looks amateurish so don't do it.
Don't worry about the megapixels
now when it comes to megapixels there is still an ongoing battle like you've got the a7 r4 that shoots at 60 megapixels it's crazy but megapixels matter less than you might think you could give a camera that has a 6-megapixel sensor to a really good photographer they'd still be able to get an amazing shot so megapixels matter less than you think.
Shoot with a prime lens
now if you want to try something new get a prime lens and shoot with it for a week it's amazing how limiting a prime lens feels to start with but then how much it makes you think about photography and think about your framing a lot more a prime lens is a fixed lens so it's not a zoom lens it is fixed to one focal length and that's it so if you can't get the framing you need to move yourself to get a better framing or to get the framing that you want and it does teach you so much about photography.
Try long exposure photography
the next photography tip for beginners is to try long exposure photography it's not for everyone but it is another thing to add to your set of skills either in the city at night if it's safe that is a fireworks event or a landscape under moonlight or if you've got some and filters try it with some strong and filters on the front of your lens in the middle of the day like I've already said long exposures aren't for everyone but you might find that you might really enjoy taking long exposures.
Look for reflections
now if it's been pouring down with rain this is a great time to look for reflections and even if it hasn't been raining look for puddles look for small pools and look for lakes when it's perfectly flat you can get a perfect reflection in that and it doesn't matter if the pool is really small you can sometimes get a tiny little puddle and if you get low enough to it you'll get a perfect reflection in that water.
Keep the horizontal flat
now when you're photographing it's sometimes easy to let the horizon drift out a little bit so the next tip is to keep an eye on your horizon you need it either perfectly flat or you need to tilt it out by around about 10 degrees but if it's only out by a few degrees it just looks like you've made the mistake now if you have made that mistake reframe it when editing it's very easy just to reframe it and flatten it out but just make sure your horizon is flat in your photographs before you put them online.
Learn to edit your photographs
now tip 99 is to learn to edit your photographs it's one thing to know how a program works and it's one thing to know how your camera works but you need to bring those two together so every time you go out and take a set of photographs make sure you edit those and make sure you put some time into learning to get the best out of them.
Don't worry about making mistakes
We finally got there this is tip 100 photography tips for beginners and that's to make mistakes and don't worry about making them and actually not encourage making them but when you do realize you've made a mistake kind of laugh at yourself when you realize what you've done if you can do this you'll learn so much from those mistakes and before you know it you'll become a very very good and a very accomplished photographer.
Conclusion
So have I missed anything at all I think I pretty much covered most of the photography tips for beginners that you'll ever need as a photographer if you can think of any others let me know in the comments below and if you like this blog about photography tips for beginners.