Best Mirrorless Cameras For Beginners. if you're in the market for a mirrorless camera but you're still somewhat new to the world of photography or videography then we have a great list of the Best Mirrorless Cameras For Beginners for you today.
We're going to be breaking down the best mirrorless cameras for beginners. Go through some of the benefits and features of each to see which might be right for you in your particular situation.
Table of Contents
Top 3 Mirrorless Cameras For Beginners
Canon EOS M50 Mirrorless Camera
We have the best overall mirrorless camera for beginners and that's going to be the canon eos m50.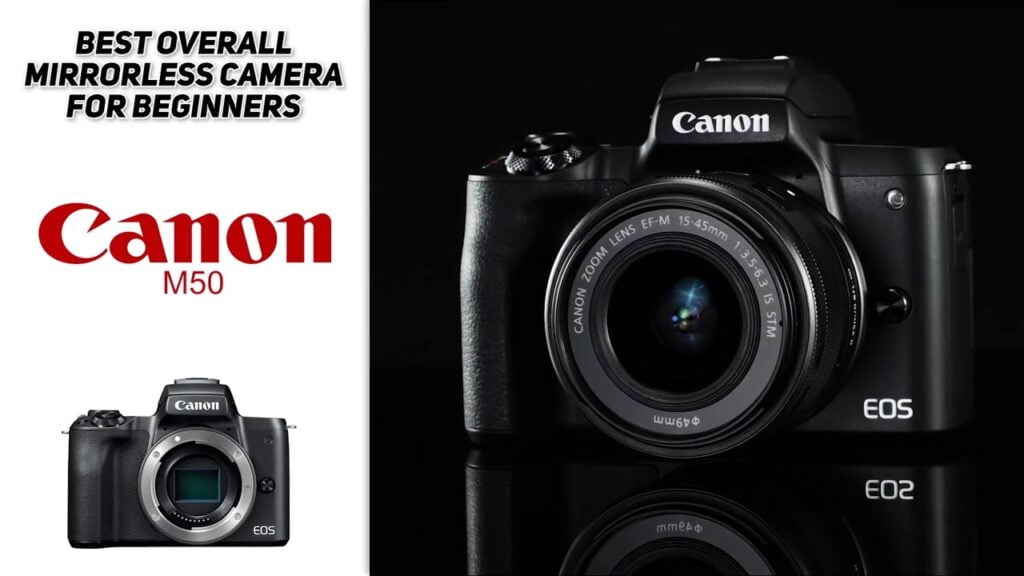 The canon eos m50 is a compact mirrorless camera. it's got a beautiful bright sharp touch screen and it can be used to operate almost all of its core functions.
That means that you can do things like adjust focus points and also change exposure settings.
One great thing here is it's also very easy to navigate and has a great menu system.
It also has a guide mode which will help you explain almost all of the features of this camera so you'll be able to get a great grasp on all of its additional features and functions.
The screen is fully articulated. so you can see what's being displayed even when the camera is pointed directly at you. which makes it a great option for those of you that are interested in starting a vlogging career.
In terms of image quality here it does have high color accuracy out of the box and also a broad dynamic range.
Just note that image sharpness can decrease slightly at higher iso levels but you'll only really notice it when you're shooting in darker environments such as being outside at night.
It also has a great autofocus system that delivers great performance in both photography and FHD video and it is actually capable of tracking and maintaining focus on moving subjects.
In terms of video quality and FHDit does produce sharply rendered objects and surfaces there is some slight graininess if you're recording in a dimly lit environment. so just something to note.
Also, one really important feature here is if you are interested in recording in 4k there are some limitations that you should know it's locked at 24 fps and does produce a severe 1.58-time crop. that means that you're gonna have a tight field of view.
Autofocus and video stabilization do decrease noticeably when filming at this level.
The battery level here isn't great so if you are planning to use this for longer sessions you may want to bring a backup battery or have something to charge it.
That being said if 4k is not a huge priority for you and you don't necessarily need to shoot for long periods of time without a backup battery then this can be a fantastic option and overall it is the best mirrorless camera for beginners that we've tested.
Canon EOS M200 Compact Mirrorless Digital Vlogging Camera
Next up we have the best portable mirrorless camera for beginners and that's going to be the canon eos m200. This camera has a fantastic portable design that is great to take with you on the go anywhere.
It can really easily be stored in either a coat pocket or a small bag and it has a great flip-out touch screen with a sharp and bright screen. so that you can use this outdoors in direct sunlight without any issues.
The menu system here is also really easy to navigate and it also does have a guide mode which will give you some additional information about all the features of the camera.
In terms of video quality here it has good video quality in 4k and decent video quality at fhd. not only does it produce sharp footage in well-lit environments but it also has decently low levels of graininess when shooting in poorly lit surroundings.
Again like shooting at night this one also does feature a wide dynamic range and it has good noise handling capabilities. just note that sharpness can decrease a little bit when you increase the iso level.
Now this one doesn't have any in-body stabilization but overall the image stabilization performance is exceptional. which means that you're going to be able to get a clear shot even at a relatively low shutter speed.
Now again if you are prioritizing recording in 4k video just note that this one is also locked at 24 fps and it does have that tight crop of the 1.57-time crop.
The autofocus system here also doesn't do the best job of maintaining focus on people's faces so it's just something to note if you are filming something that's fast-moving or you're interested in tracking a specific subject.
In terms of ports and inputs here, it's also somewhat limited. it doesn't have a microphone or headphone jack to improve the quality of audio or to help monitor audio levels.
But with all that said if you are interested primarily in something that's portable and shooting video in 4k is not a priority for you then this could be a great handheld camera that you can take with you anywhere and will produce excellent quality photos.
Sony Alpha a6400 Mirrorless Camera
Last up we have the best mirrorless camera for beginners for video and that's going to be the sony a6400. This is also a very compact and easy-to-carry camera and it's great for extended periods of time.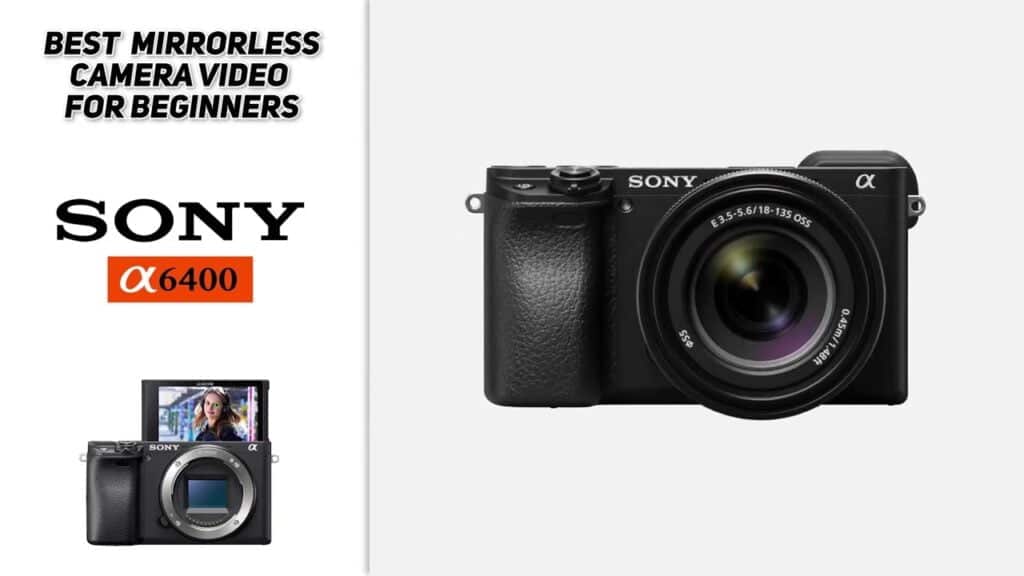 It's also incredibly well built and has a fantastic flip-out screen that's both bright and spacious.
We were really impressed with the battery power on this one and a single charge should be enough to last you through a long shooting session.
This one also has great video recording quality in 4k and FHD and it produces sharply rendered object contours and surfaces.
Also, this one does have low levels of visual noise and that's especially true when shooting in dimly lit environments which we were really impressed with.
So if you're somebody that likes to shoot at night or in the dark this could be a great camera for you.
Another thing we were impressed with was the autofocus system. it does have superb performance while recording video and it also tracks moving objects and the subject's faces without difficulty.
Also for those of you interested in vlogging you will be happy to note that it does have a clean HDMI output and you can attach external recorders free of any overlays and you can even fit an auxiliary mic for higher quality audio in your footage.
Now with this one usability is slightly down from some of the other options on our list. the menu isn't the easiest to navigate and it's not the most intuitive but if you do spend some time with it you should be able to find all the functions you need relatively quickly.
But overall it's an impressive camera and does have impressive quality and overall versatility. which means that it's a great option for those of you who are interested in shooting video and that's why the sony a6400 has found a spot on our list today.
Conclusion
Anyway, guys if you are interested in picking up a new mirrorless camera and hopefully this blog about Best Mirrorless Cameras For Beginners was helpful for you.